Porsche Boxster
Boxster 2 Door Roadster 4.0 400 25 Years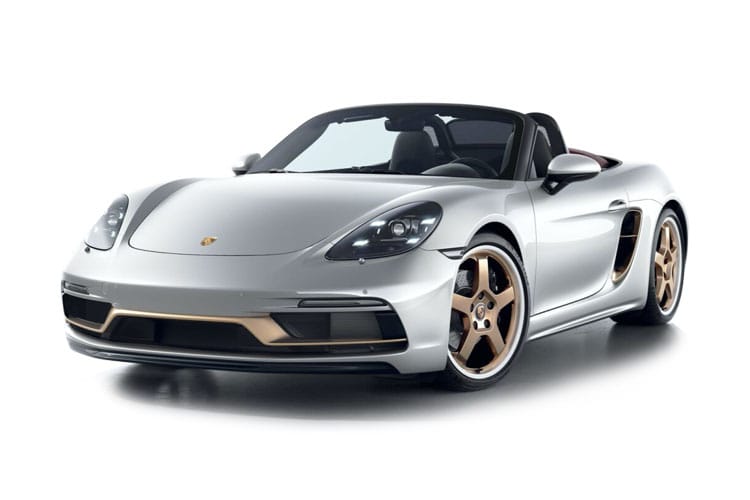 £617.37 /month
ex.VAT £740.84 inc.VAT
Initial Rental
£3,704.22 ex.VAT
Payments are based on 6 Rentals in Advance. We can do lower initial payments. Images are for illustration purposes only.
Vehicle Information
Body Style: Roadster
Fuel Type: Petrol
Transmission: Manual
Year: 2022
Doors: 2
Seats: 2
Drive Type: Rear Wheel
MPG: 30.1
Engine Size: 3995
Engine Configuration: 6 Cylinder V Configuration
BHP: 395
Top Speed: 182mph
Length: 4391mm
Width: 1994mm
Height: 1273mm
Wheel Base: 2475mm
Unladen Weight: 1405kg
Boot Capacity: 4.20L
Fuel Tank Size: 64.00L
Spare Tyre: Puncture repair kit
Insurance: 48E
P11D: £55,730.00
Additional Information
Your vehicle is supplied direct through the manufacturer's franchised dealer network.
Your new vehicle includes full manufacturer's warranty, breakdown recovery and road tax.
Advanced Vehicle Leasing will deliver your new vehicle anywhere in the UK for free.
Optional Maintenance Packages
Scheduled Servicing
Mechanical & Electrical Repairs
Tyres included
Standard Features
ALLOY WHEELS
20IN BOXSTER 25 YEARS
ANTI-LOCK BRAKES
ABS WITH EXTENDED BRAKE FUNCTIONS
AIR CONDITIONING - FRONT
AIR CONDITIONING SYSTEM
VEHICLE SECURITY
ALARM SYSTEM
START/STOP ENGINE TECHNOLOGY
AUTO START/STOP FUNCTION AND COASTING
RADIO EQUIPMENT INC MULTIMEDIA
CONNECT PLUS
DAB RADIO - DIGITAL AUDIO BROADCASTING
DIGITAL RADIO
ELECTRIC DOOR MIRRORS
ELECTRIC ADJUSTBLE AND HEATD EXTR MIRROR
POWER STEERING
ELECTROMECHANICAL DIRECT STEERING
IMMOBILISER
ENGINE IMMOBILISER
DRIVER AIRBAG
FULL SIZE DRIVER AIRBAG
PASSENGER AIRBAG
FULL SIZE PASSENGER AIRBAG
ADJUSTABLE STEERING COLUMN
GT SPORTS S/WHL+MANUAL FORE/AFT+HGHT ADJ
AIRBAGS (SIDE/LATERAL ETC)
HEAD AIRBAG
HIGH LEVEL BRAKE LIGHT
INTEGRATED 4 POINT BRAKE LIGHT
WIND DEFLECTOR
NET WIND DEFLECTOR
OUTSIDE TEMP GAUGE
OUTSIDE TEMP GAUGE
SUSPENSION
PASM + RIDE HEIGHT LOWERED BY 20MM
TRACTION CONTROL
PORSCHE STABILITY MANAGEMENT
TRACTION CONTROL
PORSCHE TORQUE VECTORING
ALL ROUND ELECTRIC WINDOWS
POWER WINDOWS WITH ONE TOUCH OPERATION
CENTRAL LOCKING
REMOTE CONTROL CENTRAL LOCKING
AIRBAGS (SIDE/LATERAL ETC)
SIDE IMPACT AIRBAG
RADIO EQUIPMENT INC MULTIMEDIA
SOUND PACKAGE PLUS SIX LOUDSPEAKERS
SEATS -ELEC ADJ DRIVER + FRONT PASSENGER
SPORTS SEATS PLUS-2WAY ELECT+MANUAL HGHT
TELEPHONE EQUIPMENT
TELEPHONE MODULE
AIRBAGS (SIDE/LATERAL ETC)
THORAX AIRBAG
MECHANICAL WARRANTY
THREE YEAR UNLIMITED MILEAGE WARRANTY
Optional Features
Colours
CARRARA WHITE
Trim: BLACK LEATHER INTERIOR LEATHER INTERIOR
CARRARA WHITE
Trim: BORDEAUX RED LEATHER INTERIOR LEATHER INTERIOR
GT SILVER
Trim: BLACK LEATHER INTERIOR LEATHER INTERIOR
GT SILVER
Trim: BORDEAUX RED LEATHER INTERIOR LEATHER INTERIOR
JET BLACK
Trim: BLACK LEATHER INTERIOR LEATHER INTERIOR
JET BLACK
Trim: BORDEAUX RED LEATHER INTERIOR LEATHER INTERIOR