Lotus Elise
Elise 2 Door Roadster 1.8 VVT-i Cup Final Edition 250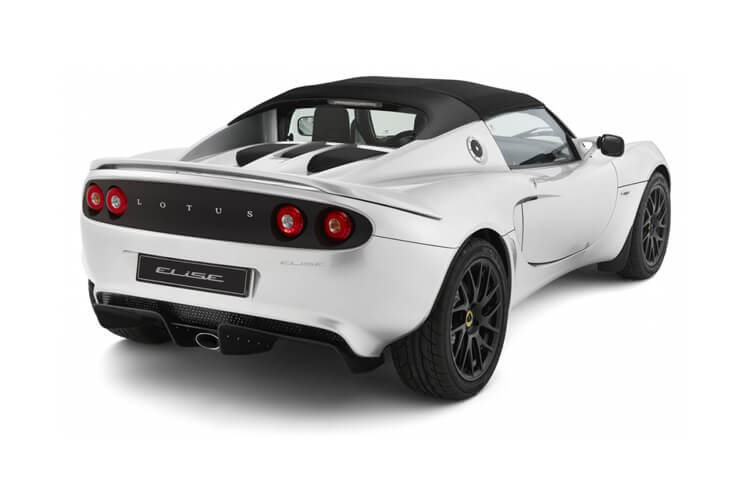 £545.99 /month
ex.VAT £655.19 inc.VAT
Initial Rental
£3,275.94 ex.VAT
Payments are based on 6 Rentals in Advance. We can do lower initial payments. Images are for illustration purposes only.
Vehicle Information
Body Style: Convertible
Fuel Type: Petrol
Transmission: Manual
Year: 2021
Doors: 2
Seats: 2
Drive Type: Rear Wheel
MPG: 36.2
Engine Size: 1798
Engine Configuration: 4 Cylinder In-Line
BHP: 245
Top Speed: 154mph
Length: 3824mm
Width: 1719mm
Height: 1117mm
Wheel Base: 2300mm
Unladen Weight: 931kg
Boot Capacity: 4.00L
Fuel Tank Size: 48.00L
P11D: £49,320.00
Additional Information
Your vehicle is supplied direct through the manufacturer's franchised dealer network.
Your new vehicle includes full manufacturer's warranty, breakdown recovery and road tax.
Advanced Vehicle Leasing will deliver your new vehicle anywhere in the UK for free.
Optional Maintenance Packages
Scheduled Servicing
Mechanical & Electrical Repairs
Tyres included
Standard Features
ALLOY WHEELS
16/17IN FR/RR ULTRA LGHTWHG BLK FRGD ALY
MECHANICAL WARRANTY
3 YEAR / 60000 MILES WARRANTY
ANTI-LOCK BRAKES
ABS SYSTEM
VEHICLE SECURITY
CAT 1 APPROVED ALARM
IMMOBILISER
CAT 1 APPROVED IMOBILISER
DRIVER AIRBAG
DRIVER AIRBAG
ELECTRIC FRONT WINDOWS
ELECTRIC FRONT WINDOWS
SUSPENSION
FULLY INDPDT DBL WISHBONE SPORT SUSPENSN
HIGH LEVEL BRAKE LIGHT
HIGH BRAKE LIGHT
PASSENGER AIRBAG
PASSENGER AIRBAG
AIRBAGS (SIDE/LATERAL ETC)
PRE-TENSIONING AIRBAG
Optional Features
Colours
AZURE BLUE
Trim: CARBON FIBRE SPORTS SEATS WITH SILVER PAD CARBON FIBRE SPORTS SEAT WITH SILVER PAD
BLACK
Trim: CARBON FIBRE SPORTS SEATS WITH SILVER PAD CARBON FIBRE SPORTS SEAT WITH SILVER PAD
BURNT ORANGE
Trim: CARBON FIBRE SPORTS SEATS WITH SILVER PAD CARBON FIBRE SPORTS SEAT WITH SILVER PAD
CALYPSO RED
Trim: CARBON FIBRE SPORTS SEATS WITH SILVER PAD CARBON FIBRE SPORTS SEAT WITH SILVER PAD
DAYTONA BLUE
Trim: CARBON FIBRE SPORTS SEATS WITH SILVER PAD CARBON FIBRE SPORTS SEAT WITH SILVER PAD
ELISE GREY
Trim: CARBON FIBRE SPORTS SEATS WITH SILVER PAD CARBON FIBRE SPORTS SEAT WITH SILVER PAD
ESSEX BLUE
Trim: CARBON FIBRE SPORTS SEATS WITH SILVER PAD CARBON FIBRE SPORTS SEAT WITH SILVER PAD
EVORA SILVER
Trim: CARBON FIBRE SPORTS SEATS WITH SILVER PAD CARBON FIBRE SPORTS SEAT WITH SILVER PAD
FIRE RED
Trim: CARBON FIBRE SPORTS SEATS WITH SILVER PAD CARBON FIBRE SPORTS SEAT WITH SILVER PAD
ISOTOPE GREEN
Trim: CARBON FIBRE SPORTS SEATS WITH SILVER PAD CARBON FIBRE SPORTS SEAT WITH SILVER PAD
METALLIC GREY
Trim: CARBON FIBRE SPORTS SEATS WITH SILVER PAD CARBON FIBRE SPORTS SEAT WITH SILVER PAD
METALLIC ORANGE
Trim: CARBON FIBRE SPORTS SEATS WITH SILVER PAD CARBON FIBRE SPORTS SEAT WITH SILVER PAD
METALLIC WHITE
Trim: CARBON FIBRE SPORTS SEATS WITH SILVER PAD CARBON FIBRE SPORTS SEAT WITH SILVER PAD
MOTORSPORT BLACK
Trim: CARBON FIBRE SPORTS SEATS WITH SILVER PAD CARBON FIBRE SPORTS SEAT WITH SILVER PAD
NIGHTFALL BLUE
Trim: CARBON FIBRE SPORTS SEATS WITH SILVER PAD CARBON FIBRE SPORTS SEAT WITH SILVER PAD
PEARL YELLOW
Trim: CARBON FIBRE SPORTS SEATS WITH SILVER PAD CARBON FIBRE SPORTS SEAT WITH SILVER PAD
RACING GREEN
Trim: CARBON FIBRE SPORTS SEATS WITH SILVER PAD CARBON FIBRE SPORTS SEAT WITH SILVER PAD
SOLID RED
Trim: CARBON FIBRE SPORTS SEATS WITH SILVER PAD CARBON FIBRE SPORTS SEAT WITH SILVER PAD
SOLID YELLOW
Trim: CARBON FIBRE SPORTS SEATS WITH SILVER PAD CARBON FIBRE SPORTS SEAT WITH SILVER PAD
VIVID GREEN
Trim: CARBON FIBRE SPORTS SEATS WITH SILVER PAD CARBON FIBRE SPORTS SEAT WITH SILVER PAD
VORTEX GREY
Trim: CARBON FIBRE SPORTS SEATS WITH SILVER PAD CARBON FIBRE SPORTS SEAT WITH SILVER PAD