Cupra Formentor
Formentor 1.5 TSI 150PS V2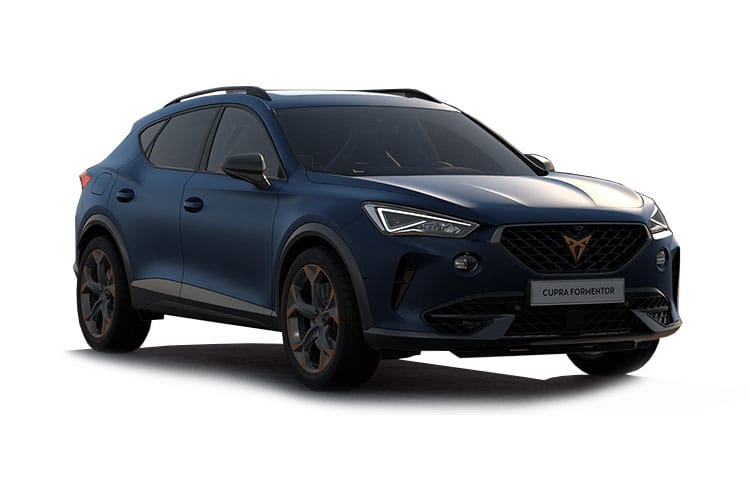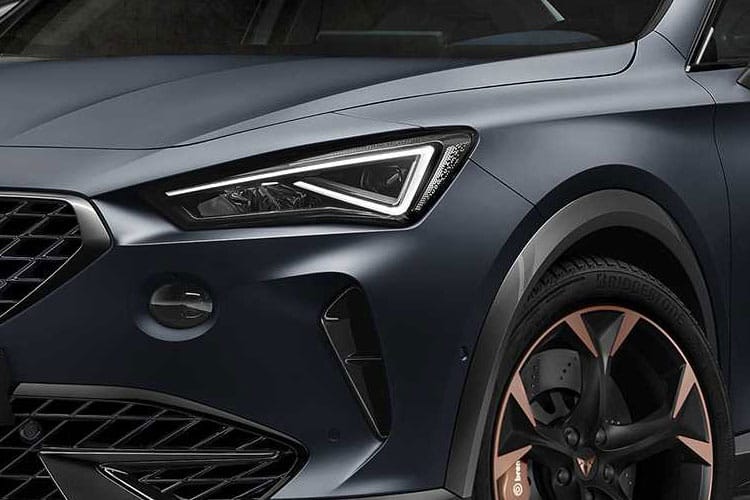 £286.01 /month
ex.VAT £343.21 inc.VAT
Initial Rental
£1,716.06 ex.VAT
Payments are based on 6 Rentals in Advance. We can do lower initial payments. Images are for illustration purposes only.
Vehicle Information
Body Style: Estate
Fuel Type: Petrol
Transmission: Manual
Year: 2022
Doors: 5
Seats: 5
Drive Type: Front Wheel
MPG: 43.5
Engine Size: 1498
Engine Configuration: 4 Cylinder In-Line
BHP: 148
Top Speed: 127mph
Length: 4446mm
Width: 1839mm
Height: 1520mm
Wheel Base: 2679mm
Unladen Weight: 1437kg
Boot Capacity: 15.90L
Fuel Tank Size: 50.00L
Spare Tyre: Puncture repair kit
Insurance: 19E
P11D: £31,175.00
Additional Information
Your vehicle is supplied direct through the manufacturer's franchised dealer network.
Your new vehicle includes full manufacturer's warranty, breakdown recovery and road tax.
Advanced Vehicle Leasing will deliver your new vehicle anywhere in the UK for free.
Optional Maintenance Packages
Scheduled Servicing
Mechanical & Electrical Repairs
Tyres included
Standard Features
SATELLITE NAVIGATION
10IN NAVIGATION SYSTEM
ALLOY WHEELS
19IN EXCLUSIVE MACHINED SPORT ALLY
RADIO EQUIPMENT INC MULTIMEDIA
2 FRONT-REAR USB
RADIO EQUIPMENT INC MULTIMEDIA
6 SPEAKERS
CRUISE CONTROL
ADAPTIVE CRUISE CNTRL WITH SPEED LIMITER
VEHICLE SECURITY
ANTI-THEFT ALARM
TELEPHONE EQUIPMENT
BLUETOOTH
AIRBAGS (SIDE/LATERAL ETC)
CURTAIN AIRBAGS
DAB RADIO - DIGITAL AUDIO BROADCASTING
DAB RADIO
DRIVER AIRBAG
DRIVER AIRBAG
SAFETY AND DRIVER ASSISTANCE
DRIVER ALERT SYSTEM
ELECTRIC FOLDING DOOR MIRRORS
ELEC ADJ+FOLDING+HEATED DOOR MRS
SEATS - ELECTRIC ADJUSTMENT DRIVER ONLY
ELEC ADJUSTABLE DRIVER SEATS + MEMORY
SAFETY AND DRIVER ASSISTANCE
FORWARD COLLISION WARNING+AUTO BRAKING
PASSENGER AIRBAG
FRONT PASSENGER AIRBAG
ROOF RAILS/RACK
GLOSSY BLACK ROOF RAILS
SEATS - HEATED FRONT
HEATED FRONT SEATS
CENTRAL LOCKING
KESSY- KEYLESS ENTRY + START
SAFETY AND DRIVER ASSISTANCE
LANE ASSIST
FRONT FOGLIGHTS
LED FRONT FOG LIGHTS+CORNERING FNCTN
FRONT + REAR PARKING SENSORS
PARK ASSIST+FRNT+REAR PRKNG SNSR
REAR HEAD RESTRAINTS
REAR HEADREST
REAR PARKING SENSORS
REAR VIEW CAMERA
SAFETY AND DRIVER ASSISTANCE
SAFETY AND DRIVING PACK M
SPLIT REAR SEAT/THRU LOAD FACILITY
SPLIT FOLDING REAR SEATS - 60-40
START/STOP ENGINE TECHNOLOGY
START+STOP SYSTEM
AIR CONDITIONING - FRONT
THREE ZONE CLIMATE CONTROL
Optional Features
Colours
ASPHALT BLUE
Trim: PETROL BLUE NAPPA LEATHER PETROL BLUE NAPPA LEATHER
ASPHALT BLUE
Trim: BLACK NAPPA LEATHER BLACK NAPPA LEATHER
DESIRE RED
Trim: BLACK NAPPA LEATHER BLACK NAPPA LEATHER
GRAPHENE GREY
Trim: BLACK NAPPA LEATHER BLACK NAPPA LEATHER
GRAPHENE GREY
Trim: PETROL BLUE NAPPA LEATHER PETROL BLUE NAPPA LEATHER
MAGNETIC TECH GREY
Trim: BLACK NAPPA LEATHER BLACK NAPPA LEATHER
MAGNETIC TECH GREY
Trim: PETROL BLUE NAPPA LEATHER PETROL BLUE NAPPA LEATHER
MAGNETIC TECH MATTE
Trim: BLACK NAPPA LEATHER BLACK NAPPA LEATHER
MAGNETIC TECH MATTE
Trim: PETROL BLUE NAPPA LEATHER PETROL BLUE NAPPA LEATHER
MIDNIGHT BLACK
Trim: PETROL BLUE NAPPA LEATHER PETROL BLUE NAPPA LEATHER
MIDNIGHT BLACK
Trim: BLACK NAPPA LEATHER BLACK NAPPA LEATHER
NEVADA WHITE
Trim: BLACK NAPPA LEATHER BLACK NAPPA LEATHER
NEVADA WHITE
Trim: PETROL BLUE NAPPA LEATHER PETROL BLUE NAPPA LEATHER
PETROL BLUE MATTE
Trim: BLACK NAPPA LEATHER BLACK NAPPA LEATHER
PETROL BLUE MATTE
Trim: PETROL BLUE NAPPA LEATHER PETROL BLUE NAPPA LEATHER
WHITE
Trim: PETROL BLUE NAPPA LEATHER PETROL BLUE NAPPA LEATHER
WHITE
Trim: BLACK NAPPA LEATHER BLACK NAPPA LEATHER